Produce A Classic Interior Room Style
Back to guides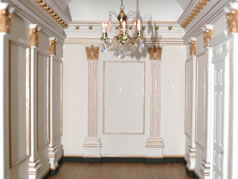 Here at Miniature Mansions we believe that there is no right or wrong way to decorate a room. You should do whatever you think is best or find the easiest. In this guide, I take you through the method I find suits me.
For this article, I've decorated the back wall of a room. When starting any project, I like to build an idea of it in my mind's eye (unless I'm working on a commission, in which case I work to the client's preferences). I do this by reading magazines and books to gain inspiration and start to create a mental picture of what I want to achieve before I start. However, this doesn't mean things don't change as I move along!
Once I have dreamt up my initial designs, I start to think about which materials (including mouldings from our range of 1:12 scale products) I will need to create the finished product. I do this by drawing a plan of the room on paper.
Back to top