Resin mouldings
We know that there's so much pleasure to be found in dolls house decorating. It can be just as much fun as finding the perfect furnishings and it's the little decorative touches that deliver such pride, enjoyment and truly one-of-a-kind finishes.
This is precisely why our range of resin mouldings is so popular, offering probably the widest selection of Georgian mouldings on the market. We create these designs with passion and attention to detail, using reference books to ensure accuracy for the period (1714 to 1837).
Our mouldings are designed to complement classic Georgian houses or add period interest to designs from more modern times.
Stress-free, unique decor
Each room of your dolls house can become a masterpiece with our resin mouldings. Imagine a stately drawing room with pilasters, capitals and stylish wall panels. You might add delicate skirting boards to the base and elaborate cornices to the top. Our ceiling panels allow you to create breathtaking decorative finishes. Picture that with a stately door surround framing the entrance, mirroring the beauty of a fire surround to the opposite wall.
From classically simple to quite magnificent, our bestselling resin mouldings allow you to decorate your dolls house directly from your mind's eye.
Versatile and easy to use
Resin mouldings are unbeatable when it comes to usability. They will not chip or break when you're cutting, meaning no disappointing waste of materials, time and money.
They are so easy to glue and paint: simply prime the moulding with two light coats of white car primer before painting with the colour of your choice. When securing mouldings together, use superglue; when attaching mouldings to your dolls house, use a UHU-style adhesive.
No limits
We supply these mouldings because inspiration should never be restricted when it comes to decorating a dolls house. Whatever style you have in mind and whatever size or shape the room, our resin mouldings make it easy. They can even bend to a curve!
Our passion
We've created our own range of step-by-step instructions on cutting, gluing and finishing. From producing a simple, classic interior to extending and fitting a moulding, you can see for yourself just how easy our resin mouldings are to use.
You can watch our videos below.
Resin mouldings: for enjoyable, stress-free dolls house decorating.
Quick Guides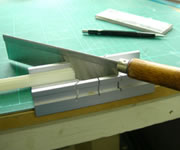 Have you got the right tools for the job? This is key to getting your cutting right.
The robust nature of our resin means that the mouldings are not prone to breaking or snapping. When working with our resin mouldings, you'll find that a sharp razor saw is sufficient to make clean edges. These fine edges mean that the joints between mouldings are cleaner.
To make your cutting really easy, make sure you have a mitre block or a bench hook handy: this will keep the moulding stable while you work.
Detailed Step by Step Guides