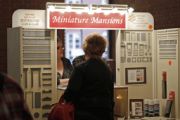 Another month, another show! The team at Miniature Mansions is looking forward to heading to London this weekend (15th and 16th May) for the much-anticipated Kensington Dollshouse Festival.
We love going to shows as it gives us the chance to meet likeminded miniature fanatatics, as well as catch up with old friends in the industry.
So if you're heading to Kensington Dollshouse Festival this weekend, please make sure you stop by to say hello. You'll find us in the foyer.
Head to http://www.dollshousefestival.com/kensington/ to find out more. There's a tonne of information about the show, as well as handy information about directions and accommodation.
See you there!