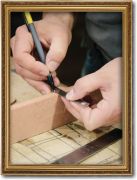 We've been enjoying a really busy November so far!
We had a great time at Miniatura on the 16th November. This event took place at a new venue, Cranmore Park in Solihull, and we found the venue really comfortable and the staff accommodating. Plus the free car park seemed to attract a few extra visitors.
We were among approximately 100 other exhibitors and the atmosphere was fantastic, plus we got to meet some new industry friends as well as catching up with some old ones.
Next up...
And now we're gearing up for the Kensington Dolls House Festival at Kensington Town Hall on the 29th. Are you going? We'd love to meet you so make sure you pop by our stand.
It's the 30th anniversary of the KDF this year so it's sure to be a good one. It's always regarded as a prestigious event so we're thrilled to be taking part.
We're looking forward to seeing you there!